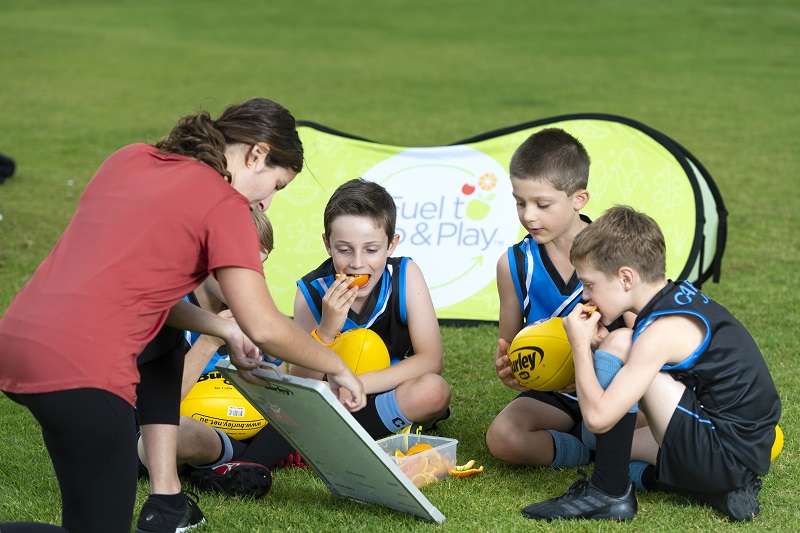 Healthy Sports Program now open!
We understand the importance of inspiring a love of healthy food and drinks amongst young people from an early age and the big role local sporting clubs and district associations play in the health and wellbeing of communities, as this is where young people are most active. The Healthy Sports Program has been designed to assist local sporting clubs and district associations provide young players with the food and drinks they need to perform at their best.
Under the Program, sports clubs and district associations can apply for up to $4,000 in funding to implement healthy eating initiatives and improve canteen facilities.
Successful grant recipients will be connected to the Fuel to Go and Play® team who will support organisations every step of the way. A Healthy Sports Toolkit has been developed to support clubs to deliver the program and to make healthy eating the norm in sport!
By working together, we can create change and give kids throughout WA the healthy start they deserve.
If you're keen to find out more about the grants available, please read the Healthy Sports Guidelines before applying.
Relevant documents and information
Talk to us about your application
If you require support contact our healthy partnership team. 
Telephone: 133 777
Healthy Sports testimonials
Kingsway Roos Netball Club
This has been a very engaging program for our committee to run and present to our members. With it being a short season due to COVID-19, Kingsway Roos Netball Club (KRNC) felt it was that something 'extra' that could be given to members to show them, the club cares about their health and safety. This is a great starting point with further health initiatives being planned for future seasons across all areas of health, sun safety and responsible drinking.
Whitford Hockey Club
The club has changed how we operate to increase the visibility of healthy options at eye height for children and adults, using a menu board to increase knowledge of all the healthy options we now have, including a weekly rotating special salad on a menu board and giving away healthy snacks and samples at the canteen to increase awareness of the new products.