This year, the partnership between Healthway and AWESOME Arts gave over 700 children in regional and remote areas an opportunity to develop and use their own artistic talents while, at the same time, learning about the importance of healthy eating.
The 2015 AWESOME Arts Creative Challenge saw professional artists head to all parts of Western Australia with the aim of introducing children to the fun and enjoyment of art and how art can be used to tell personal stories in a unique and special way. The Challenge is part of Healthway's sponsorship of AWESOME Art's annual program.
The children, aged between 4 and 17 years, in communities including Gascoyne Junction, Mowanjum and Burringurrah, were shown how various art forms could be used to illustrate the theme of This is Where I Am while, at the same time, they learned why Go for 2 & 5 is such an important message about healthy eating.
Healthway supports AWESOME Arts to engage professional artists to work with young people in regional and remote communities. The program has many dimensions including using art to connect children to the rich cultural and environmental diversity of Western Australia and to explore and express the uniqueness of their local community.
At the Mowanjum Arts Centre, from 29 June to 3 July, artists-in-residence Calvin Chee and Matt McVeigh, worked with a group of 38 children aged 5 to 15 years to create a float for the Derby community's annual Boab Festival. Using recycled materials including PVC pipe, textiles and papier mache, Calvin and Matt helped the children create stage props and costumes to depict the birthing story of the Wunggug (snake) and other Kimberley animals.
The children were delighted to use a plastic tag gun and from that to understand how price tags are attached to clothes in stores. The young people prepared for the festival by painting themselves and helping each other into costumes. At the same time, they enjoyed eating an abundance of fruit, with many trying new kinds of fruit for the first time.
"The float that was created won first prize in the float parade and the kids were so proud and excited to be representing their community," said Calvin.
While this artistic fun was happening at Mowanjum, it was a similar scene further south at Gascoyne Junction where the theme This is Where I Am was focussed on the Gascoyne River and what it meant to the local community.
Artists-in-residence Fionn Mulholland and Kathleen Szalay-Hoffmann worked with a group of students from the Gascoyne Junction Remote Community School who were eager to learn new creative skills to highlight the community's frequent river visits for swimming and fishing.
The artists introduced the children aged 5 to 17 years to film equipment and encouraged them to record hours of film at the river which they enjoyed editing to include songs, choreographed dances, slow motion jumps and basketball moves.
All the participants enjoyed their daily serves of fresh fruit and some combined this into their video. The celebration event was a screening of the films in a school classroom.
Artists Fionn and Kathleen said: "The resulting films reflected the respect and pride the young people had for their community with tour videos of their school, veggie patch and the land around the river."
AWESOME Arts' Community Cultural Development Manager Sarah Commander said the partnership with Healthway helped AWESOME Arts work towards its mission of providing opportunities for Western Australia's children to actively engage with the arts, intensifying their connectivity with the broader world in which they live.
"The Healthway sponsorship enables us to introduce children in remote communities to art and to learn about it from professional artists who would not normally be available to them," Ms Commander said.
"We use the Creative Challenge Program and contemporary arts as the vehicle to actively promote positive change in young people's lifestyles with a focus on increasing opportunities for disadvantaged, disengaged and marginalised youth populations to participate in healthy activities."
Healthway's Arts Program Manager, Shane Pavlinovich, said: "Both nutrition and physical activity are high priority health areas addressed in the Creative Challenge Program because of the importance of healthy eating, activity and fun for everyone including children."

Hayley, 11, from the Mowanjum Community School enjoying a healthy snack in between costume and float making workshops. Photo – AWESOME Arts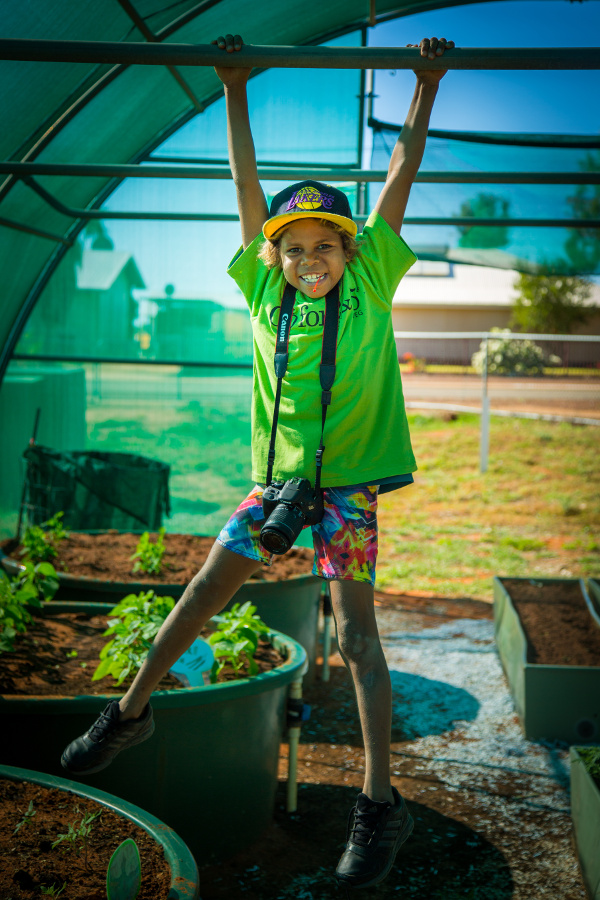 Eight year old Ryan took part in the AWESOME Arts Creative Challenge at Gascoyne Junction and took photos of the community veggie garden as part of his story about the Gascoyne River. Photo – Fionn Mulholland