The sport of gymnastics came out into the wide open spaces of the Fremantle Esplanade Park in November and around 200 young children clearly appreciated the chance to try some of the manoeuvres for the first time.
The Go for 2&5 GymFest event was organised by the team at Gymnastics WA in partnership with Healthway as part of an annual sports sponsorship. It aimed to encourage children aged from 3 to 12 years to get active and involved in the fundamentals of gymnastics, a popular sport requiring physical strength, agility and coordination.
A Mad Hatters theme added some entertainment to the day and fused the fantasy of Alice in Wonderland with the energy and precision required in gymnastics.
Kids were able to try themed gymnastic circuits including "Alice in Tumbleland", "Down the Rabbit Hole" and many more. Each circuit was unique and incorporated pieces of gym equipment like mini trampolines and spring boards, tumbling tracks and climbing frames, bouncy castles and balance beams.
There were also some great displays by young gymnasts from local clubs who showed just what exciting movements were possible when strength, coordination and experience combined to produce spectacular results.
The Go for 2&5 GymFest day was part of Gymnastics WA's overall strategy to raise awareness of its "Start Here, Go Anywhere" message.
"The fundamental skills of gymnastics will help the physical development of a child and form a solid foundation of skills that can be easily transferred across to any sport," said Gymnastics WA Executive Director, Ruth Gibbons.
"We are excited to be able to bring gymnastics out to the people on what turned out to be such a beautiful day in Fremantle.
"We would certainly like to thank Healthway and the City of Fremantle for making it possible for so many youngsters to come along with their families and give basic gymnastics a try in such a fun atmosphere."
Healthway's Acting Sports Program Manager, Brianne James, said the sponsorship of Gymnastics WA offered an excellent opportunity to promote the Go for 2&5 healthy eating message to children and young people.
"Gymnastics WA has proven to be a strong supporter of the health message and the team there have ensured the message has wide exposure right across the sport of gymnastics," Ms James said. "The Go for 2&5 GymFest day in Fremantle is a great example of how to introduce a sport to young people while also teaching them about important health issues in a fun and interesting way.
"Gymnastics WA promotes the Go for 2&5 healthy eating message through numerous activities that encourage participation in sport across a wide range of settings including at schools and after school care programs.
"Healthway is also pleased to note the way in which Gymnastics WA involves the whole gymnastics community in embracing the Go for 2&5 message through education and providing healthy food options at all their events."

Dylan Nolan, aged 10, shows his skills on the trampoline. Dylan is a member of the High Flyers Trampoline and Gymnastics Academy.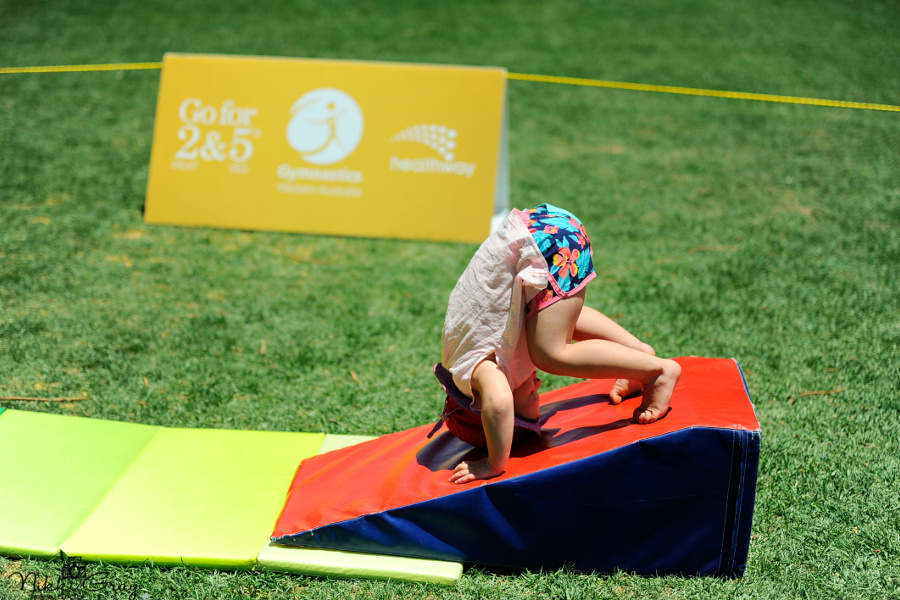 a young GymFest participant tries a new move.
Pictures courtesy Nikki Gray Photography